3 tags
"Travel isn't always pretty. It isn't always comfortable. Sometimes it hurts, it..."
– Anthony Bourdain (via penseesduchoeur)
3 tags
"Death doesn't exist. It never did, it never will. But we've drawn so..."
– Ray Bradbury, Something Wicked This Way Comes Rest in peace, Mr. Bradbury. My words cannot do justice to your incredibly influential life.
3 tags
4 tags
"The Lord of Light wants them burned. The Drowned God wants them drowned. Why are..."
– Tyrion Lannister, Game of Thrones (S2E8) Great question, Tyrion. Great question.
3 tags
"Flee from the dangers of sleeping in the arms of a witch; let her not hold you..."
– from the Norse Prose Edda (via spectralradiance) (via spectralradiance)
4 tags
"We wrapped our dreams in words and patterned the words so that they would live..."
– Neil Gaiman, Fragile Things (via excessivebookshelf)
"We conceive of the individual animal as a small world, existing for its own..."
– Johann Wolfgang von Goethe, Suhrkamp ed., vol 12, p. 121; trans. Douglas Miller, Scientific Studies (via fuckyeahexistentialism)
1 tag
5 tags
"Men at some time are masters of their fates: The fault, dear Brutus, is not in..."
– Cassius, Julius Caesar (Act I, Scene II)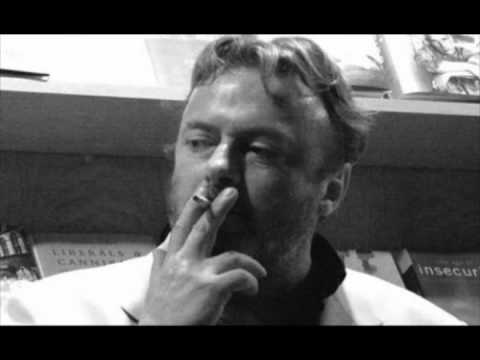 Breaking: Author Christopher Hitchens dies at the...
moderndayclassic: fuckyeah-nerdery: cognitivedissonance: Love him or hate him, he was an incredible author unafraid to confront issues like his own mortality, politics, and morality. RIP, Mr. Hitchens.  Damn. This is a great loss.
"The most spiritual men, as the strongest, find their happiness where others..."
– Friedrich Nietzche (via thouartgod)
"People are taking the piss out of you everyday. They butt into your life, take a..."
– Banksy (via thechocolatebrigade) I will never stop loving this quote. (via thedaysarenotfullenough)
"The true life is not reducible to words spoken or written, not by anyone, ever...."
– Don DeLillo - Point Omega (via riotousheart)
3 tags
Cormac McCarthy vs. J. D. Salinger →
2 tags
My favorite band of all time is going on hiatus.
Life has no meaning.
5 tags
"Dead are all gods: now we want the overman to live."
– Friedrich Nietzsche, Thus Spoke Zarathustra
"If you're twenty-two, physically fit, hungry to learn and be better, I urge you..."
– Anthony Bourdain via travel-bugg (via petitpoulailler) This is what I should be doing with my life, sadly there is a great importance placed on schooling. (via moderndayclassic)
"Have you ever lost someone you love and wanted one more conversation, one more..."
–  Mitch Albom (via kincadealex)
2 tags
2 tags
"If you want to change the world, you have to change the metaphor."
– Joseph Campbell, American mythologist, writer and lecturer (1904-1987), The Power of Myth, documentary, 1988 (via amiquote)
"This is why we read, and why in moments of darkness we return to books: to find..."
– Alberto Manguel, A Reader on Reading (via bookoasis)
"I write to give myself strength. I write to be the characters that I am not. I..."
– Joss Whedon (via girlwithoutwings)
"We don't believe in a small America. We don't believe in the kind of smallness..."
– U.S. President Barack Obama, addressing the GOP Presidential Candidates' failure to speak out both during and after their most recent debate during which Stephen Hill, who is a soldier serving in Iraq, asked if the candidates would continue to object to the repeal of DADT, and was verbally...
1 tag
8 tags
5 tags
More from "The Daily Show."
STEWART: Here's the reality: the top one percent (of earners) take in nearly 25 percent of income today.
O'REILLY: And pay how much of the tax? THIRTY PERCENT OF IT.
STEWART (continuing): But 25 years ago, it was TWELVE percent. Top one percent control 40 percent of the wealth: just five years ago, it was 33 percent. Top one percent have had incomes rise 18 percent over the last decade!
O'REILLY (childish): We should just shoot them.
STEWART: I'm not saying we should shoot them. But we shouldn't act like returning to the tax rate of the 90's is class warfare on par with Lenin and Marx.
3 tags
5 tags
Watch
hermitologist: One of my favorite tracks from our new record, Major/Minor, performed acoustically at Hurley Studios today. (I was in the cheering section in the control room, and present for the Facebook takeover/chat during this session.) This song is so beautiful.
3 tags
"Except for a few precious hours on Friday nights, I had little of what is..."
– Garrett Keizer, "Getting Schooled: The re-education of the American teacher" (via fortuneandglory)
"A vigilante is just a man lost in the scramble for his own gratification. He can..."
– Ra's Al Ghul - Batman Begins (via kincadealex)
1 tag
1 tag
"This is what you shall do; Love the earth and sun and the animals, despise..."
– Walt Whitman (via genevieveconstancejones)
3 tags
Why Miles Morales is Important (A lesson in the...
68rooms68vacancies: At this point, anyone who follows me knows I work in a comic shop. Or, at the very least, you know that I'm a comic fanatic. I feel like sharing this anecdote that happened today, which took a very crappy day and made it one of the best days I've had in weeks. And it involves a customer, his son, and Miles Morales, the new mixed-race Spider-man. It's Thursday. We sold out of...
flashover
dictionaryofobscuresorrows: n. the moment a conversation becomes real and alive, which occurs when a spark of trust crosses the room and jolts the delicate circuits you keep insulated under layers of irony, momentarily grounding the static emotional charge you've built up through decades of friction with the world.
2 tags
"Now if you think you do have rights, one last assignment for you. Next time..."
– George Carlin, You Have No Rights (via coeus)